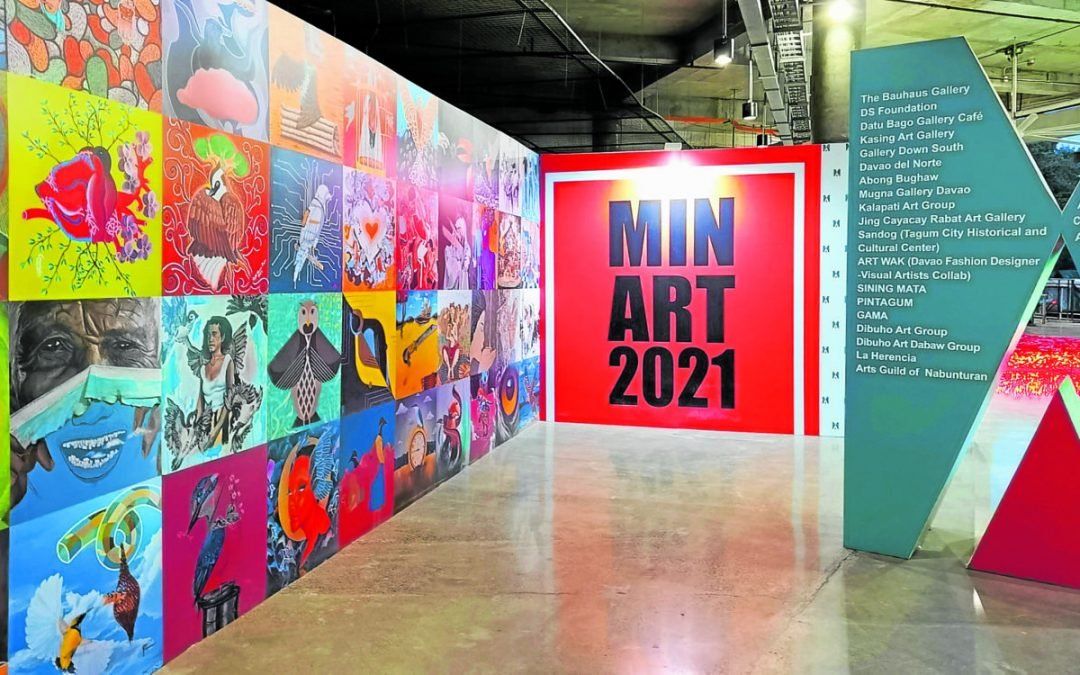 Running until the end of the month, the Mindanao Art Fair aims 'to maintain a vibrant industry to sustain life and livelihood'
By: Irene C. PerezInquirer Lifestyle / 07:32 PM October 22, 2021
The "new normal" art scene is thriving in the south as art and fashion by Mindanao artists and designers are on view in the Mindanao Art Fair, ongoing until Oct. 31 at the new heritage-themed mall, Poblacion Market Center, in Davao City.
Over 300 artists and 35 galleries are participating in the third edition of the free art festival, which is open to on-site and virtual visitors. In-person viewing is by-appointment only and slots must be booked on mindanaoart.org. The venue can accommodate up to 500 guests daily, according to secretariat head Donna Pareja.
Mindanao Art is copresented by Lawig Diwa Inc., the National Commission for Culture and the Arts and the National Committee on Art Galleries.
Lawig Diwa president Rey Mudjahid "Kublai" P. Millan said that continuing Mindanao Art through the pandemic is important to keep the "the momentum the Mindanao artists felt over the past two years and to maintain a vibrant industry to sustain life and livelihood."
The theme is "Art in Between: Mindanao Art in Liminal Space," which is "a recognition of where we all are right now—a space of ambiguity and disorientation." The two-story, Instagram-friendly Poblacion Market Center features tree-stump sculptures symbolizing being cut off and nourished again, and a "metamorphosis" tunnel.
Giant murals by Davao artist Jefferson "Jeff" Bangot welcome guests by the entrance. Another highlight is the exhibit "4 Artists, 4 Mindanao," featuring paintings by Tanya Gaisano Lee, Jag Bueno, Lucas Rañola and Elenita "Boots" Dumlao.
Most represented
Davao is the most represented region with 20 groups. Mindanao Art likewise gives exposure to artists from Northern Mindanao, such as Talaandig Soil Artists, Capitol University Museum of Three Cultures, Studio One Art Gallery, Cagayan de Oro Artist Guild and Arkadia Collective.
From Zamboanga Peninsula are Lumbayao Artists Collective, Good Times Gallery and Pinturas en Liensoz Artist Society Zamboanga City. Caraga region is represented by Agusan Artists Association, Likha-Karaga and Alampat Gallery/Guhit Pinas-Agusan, while the Soccsksargen (South Cotabato, Cotabato, Sultan Kudarat, Sarangani and General Santos) region is represented by Mugna Heneral VA Group and Irinugyun Artist Guild.
Available on Mindanao Art's Facebook page, the "Art Walks, Art Talks" fashion show features Davao Fashion and Design Council members who interpreted paintings, sculptures and mixed-media works into wearables. Collaborator pairs are Aztec Barba and Kristin Gaid, Benjie Panizales and Lizlee Enimido, Bamba Limon and Joel Geolamen, Dodjie Batu and Dennis Puzon, Edgar Buyan and Jag Bueno, Emi Englis and Victor Dumaguing, Egay Ayag and Lucas Rañola, and Windel Mira and Jong Tangiday.
The Yellow Drum Project, a sustainability effort headed by Dr. Roberto "Doc Bo" P. Puentespina Jr., put up the "Happy Drum Project" exhibit with colorful garbage drums delivering the message of environmental awareness.
"In Memory of Trees" gathers paintings by student artists mentored by Victor Dumaguing under the Lunang Art Residency Program in Tagum City which is dubbed the Mural Capital of the Philippines. The youth are among the more frequent visitors in the Mindanao Art fair, Pareja said.
Read more: https://lifestyle.inquirer.net/390090/mindanao-art-and-fashion-in-focus-at-davao-art-fair/#ixzz7DCNPgk5c
Follow us: @inquirerdotnet on Twitter | inquirerdotnet on Facebook
Source: Mindanao art and fashion in focus at Davao art fair | Inquirer Lifestyle