By CAROLYN O. ARGUILLAS -OCTOBER 4, 2019 9:46 AM
DAVAO CITY (MindaNews / 04 October) – "Where is Mindanao in the Philippine art scene? Is there such a thing as Mindanao art?"
Visit Davao City on October 5 and 6 for the 1st Mindanao Art Fair and Exhibit (MindanaoArt) and find out the answers to these questions posed by Vim Nadera, Father of Performance Poetry and Director of the UP Institute of Creative Writing.
"Traversing the River of Creativity" is the theme of MindanaoArt which will feature a main exhibit at the atrium of Gaisano Mall on October 5 and 6 from 10 a.m. to 9 p.m. and a conference open to the public at the RSM Events Center of the Philippine Women's College on October 5 from 8 a.m. to 5 p.m. There are also satellite exhibits in the city's art galleries and a hotel in Davao City.
The main exhibit will feature at least 67 artists from ten art galleries and groups – six from Davao and one each from Butuan, Cagayan de Oro, Zamboanga and Bukidnon.
From the exhibit notes, MindaNews counted at least 38 participating artists from Davao City and 29 from the other parts of Mindanao.
Nadera, who will keynote the conference on October 5, gave a preview of his talk during the press conference Thursday afternoon.
"As an outsider," he said, he would ask "where is Mindanao in the Philippine art scene? Is there such thing as Mindanao art? As a writer, I'll be asking where is Mindanao in Philippine literature in Philippine dance in Philippine music in Philippine theatre in Philippine film in Philippine culinary arts? Where is Mindanao in, of course, the visual arts?"
Nadera also wants to know who is a Mindanao artist. "How would you define a Mindanao artist? Should he or she be a Lumad? Should he or she be a Muslim? Or should he or she be a langyaw or a settler or a tagalabas, a migrant?"
"Sila'y atong paadtuon diri"
MindanaoArt is a project of Lakbay-Diwa, a Davao City-based organization promoting art and helping artists. Rey Mudjahid "Kublai" Millan, famous for his huge sculptural pieces and art installations that have become landmarks not only in Davao City but in other parts of Mindanao is its President, and Stella Estremera, former Sun.Star Davao editor in chief who continues to write a column for the paper, is its secretary/treasurer.
In a pre-event video, Millan said collectors, owners of art galleries, and art patrons in Manila "would all come down to Mindanao and makit-an nila in front of their eyes na kuyaw gyud diay kaayo ning mga artists sa Mindanao. So Instead na kami ang muadto dito, sila'y atong paadtuon diri" (they will see how good these Mindanao artists are so instead of us going there, we will let them come here).
Millan explained they chose the theme "Traversing the River of Creativity" because "if this is going to be the first ever Mindanao art fair, we might as well start from the very beginning … mas maganda kung balikan natin ang nakaraan bago tayo pumunta sa kung saan man tayo papunta (it's better to go back to our past before we proceed to wherever we may want to go). We are trying to define however which way we express yung kaluluwa, yung spirit ng (the soul, the spirt of) Mindanao but we can only do that if we start from the beginning. That's why we were encouraging galleries and artists to first back track, from the source of all source, back to the river of creativity."
READ: Traversing the River of Creative Generations
Millan said it will be the first time where viewers get to see "so much Mindanao-inspired art works" that would hopefully make them "feel the collective spirit from the different inspirations coming from the different regions in Mindanao and different art groups."
"It's so exciting to be able to see for the first time a unified Mindanao in terms of art," he said.
Mindanao art industry

Estremera said Mindanao Art is the "first ever attempt to gather art groups, art galleries from all over Mindanao in an attempt to start up a movement to stimulate an art industry kasi Mindanao has a lot of artists, all kinds of artists in fact, and there's a lot of inspiration but there is no industry to speak of that can sustain a livelihood for the artist."
READ: Renowned art personalities to share expertise in MindaArt
At the press conference, Estremera said they look forward to an art industry in Mindanao "that is grounded on the roots of Mindanao. Di lang kumikita but kitang-kita na Mindanao siya."
MindanaoArt is supported by a grant from the National Commission on Culture and the Arts-National Committee on Art Galleries (NCCA-NCAG) under the Regional Art Fair category. Lawig-Diwa submitted a proposal and won the competitive grant in December 2018 and has applied for the staging of the second MindanaoArt in 2020.
The organizers proposed the project to "provide a venue for gallery owners and art patrons to scrutinize Mindanao's best; bring art collectors to view and buy Mindanao's best; push local gallery owners and art spaces to sustain an industry manned by local talents thru interaction with established art galleries in the national capital; be an annual gathering for learning and interacting with art industry movers who are exposed to a vibrant, self-sustaining, and profitable art scene; and stimulate a culture of knowing one's community among the local artists and find an identity that is uniquely Mindanao."
Museums and Galleries Month
MindanaoArt is part of the NCCA's celebration of the Museum and Galleries Month with the theme "Building the Nation, One Exhibit at a Time."
The celebration, according to John Delan Robillos, head of the NCCA-NCAG, underscores the role of museums and galleries as "custodians not only of our historical past but of our future."
"We want the public to realize that these institutions are centers of our consciousness which fuel our common identity and aspirations as a nation."
Robillos said "everyone is so excited about the Mindanao Art Fair" especially since the art scene in the past was "always centered in Manila."
Father Harold Rentoria, NCCA Commissioner for Cultural Heritage recalled that in his six years at the NCCA, "naka-centralize sa Manila ang activites." He expressed hope that the regional art fairs like MindanaoArt "will encourage not only artists malapit lang sa sentro, hindi lang sana taga-Davao but artists from different provinces in Mindanao." He cited the T'bolis in Sultan Kudarat and others from Maguindanao and the youth who could be the future national artists.
Participating artists
Art galleries and art groups that are participating in MindanaoArt are Gallery Down South, Tabula Rasa Art Gallery, Bintana Art Gallery, Piguras Davao, Art Portal Gallery for Contemporary Art and Datu Bago Gallery and Café, all in Davao City; Talaandig Soil Painters from Bukidnon; Capitol University Museum of Three Cultures from Cagayan de Oro; Likha-Caraga from Butuan City; and the Zamboanga-City based Ateneo de Zamboanga Gallery of the Peninsula and the Archipelago.
Davao City is in Southern Mindanao, Cagayan de Oro and Bukidnon are in Northern Mindanao, Zamboanga is in Western Mindanao and Butuan is in Caraga region.
Mindanao has 27 provinces and 33 cities spread across six regions.
While many participating artists draw their inspiration from or are influenced by the cultures of the Lumads (Indigenous Peoples) and the Moro, only one Lumad group – the Talaandig soil painters from Bukidnon – is represented in MindanaoArt. There is no Moro art group. Organizers said they extended invitations across Mindanao and the participating artists had immediately confirmed their attendance.
Dinky Munda of Tabula Rasa reminded those who attended the press conference that aside from the main exhibit, there are satellite exhibits at the galleries of Tabula Rasa at Felcris Centrale, Art Portal along Legaspi St., Bintana at the NCCC Victoria Mall, Datu Bago Gallery at the Davao City National High School, and Morning Light Gallery along Quirino Avenue.
There is also an ongoing exhibit at the Waterfront Insular Hotel, featuring the works of Bai Hinang, an all-women's art group of 26 women timed for Pink October, a campaign for breast cancer awareness.
There is also another exhibit at the Mindanao Folk Arts Museum at the PWC.
The duration of the "satellite exhibits" is longer, some until October 31.
"We have been preparing for this event for a long, long time. This is a long time coming. For me this is the most significant exhibit we have in Mindanao," said the 74-year old Munda. (Carolyn O. Arguillas / MindaNews)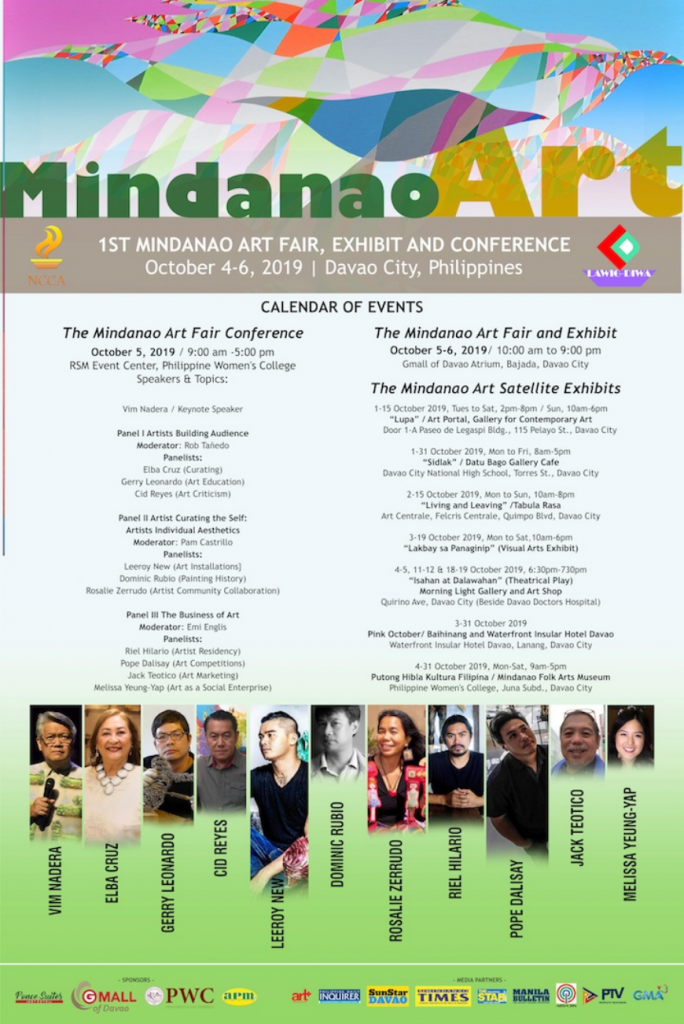 Source: Where is Mindanao in the Philippine art scene? Visit the 1st Mindanao Art Fair and Exhibit | MindaNews